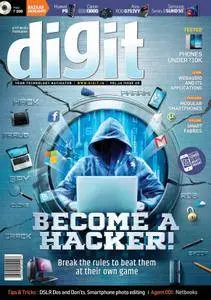 Digit Magazine - September 2016
English | 148 pages | True PDF | 18.7 MB
Become a Hacker! … and beat them at their own game.
ButTorrent: Everything you need to know about file sharing, spoofing IPs, finding mirrors of websites, and bypassing ISP restrictions
Outsmarting sys-admins: System admins are sometimes over zealous in restricting your online freedom. To get your work done, you need to break those shackles.
How to be invisible online: Hide your trail online, so that you're virtually untraceable with the help of hardware and software services
The darwin awards: We list down several hacks that you should definitely try on noobs to teach them the basics of securing themselves
When geeks hack: Look at what happens when geeks decide to bend the rules on their way to glory. They get caught of course, but it's a fun lesson for us all!