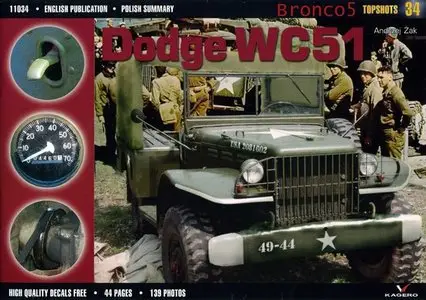 Dodge WC51 (Kagero Topshots 34) By Andrzej Zak, Tomasz Szlagor
Publisher: Kagero 2007 | 42 Pages | ISBN: 836044546X | PDF | 14 MB
Production of the Dodge WC51 commenced in 1942 in re­sponse to the needs of the U.S. Army for a multi-role, four-wheel-drive vehicle. Its full designation was Dodge T214-WC51 ton 4x4 and its popular name was 'Beep', which originated from 'Big Jeep'. The vehicle was used for carrying troops and towing artillery pieces. In the period between 1942-1945, along with the model WC52 (which differed externally from the WC51 by a winch mounted on the front bumper) as many as 34,000 vehi­cles of this type were ultimately produced. The Dodge T214 chassis, common to both models, was also used to produce other specialized vehicles, such as the WC53 Carryall featuring a fixed metal cab; the WC 54 ambulance; the WC55 self-propelled anti­tank weapons carrier armed with a 37 mm cannon; the WC57 and WC58 staff cars, and the WC59 and WC61 telephone line-laying vehicles. From 1943, the Chrysler Corporation used the Dodge T214 model as a basis for production of the 1.5 ton, three-axle Dodge T223 trucks, designated WC62 and WC63, which in­corporated a 6x6 all-wheel drive system.
NO PASSWORD


!!!No Mirrors below, please! Follow Rules!