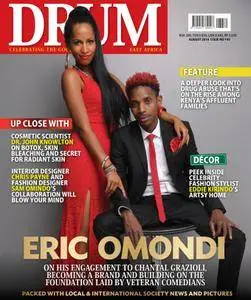 Drum East Africa - August 2016
English | 68 pages | True PDF | 18.4 MB
In this issue of DRUM East Africa Magazine, we catch up with comedian Eric Omondi who opens up about meeting his fiancée Chantal Grazioli for the first time, planning their engagement, comedians who paved the way and becoming a brand.
Eddie Kirindo is an unconventional fashion stylist. Check out the fashion pages where he shows you different ways to rock your gown this wedding season.
We know which fork to use, the correct way to sip soup and how to use our napkins while eating. But what's the origin of the Fine dining rules we follow? Turn to the etiquette section to find out.
From skydiving to cycling to the great wildebeest migration, check out our travel section for fun things to do this month.
In Snap Chat, Cameroonian Saxophonist Manu Dibango talks about taking the unbeaten path, his history with the late Papa Wemba and Rihanna, Michael Jackson and Jay Z using lyrics from his famous song.
Grab your copy for these and other juicy stories in the August issue of DRUM East Africa magazine.