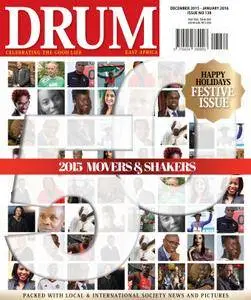 Drum East Africa - December 2015
English | 72 pages | True PDF | 10.9 MB
There is no better way to begin the month or usher in the holidays than with our latest issue of DRUM EA, which is filled with amazing stories and personalities. We wrap up the year in style by giving you our top 50 Movers and Shakers of 2015 (page 18). Be they entertainers, sports personalities, members of the clergy or politicians, if they made an impact in 2015, they are on this list.
We also caught up with the French Ambassador to Kenya and Somalia (page 60) Rémi Maréchaux who has traversed the globe during his many assignments. Read his story to know why this family man took a keen interest in Kiswahili, what he loves about Kenya and his future plans.
Whether you're a city girl trekking through the urban concrete jungle or visiting the country, you can always look to exotic, leafy palm prints to brighten your day. Ladies, check out our fashion pages (page 28) themed Rustic Palm Springs where you'll find an amazing, colourful spread.
Turn to our Fine Dining section (page 47) for some holiday soul food. With tasty but healthy delights, such as the marbley-baileys mousse and the chicken meloha served with brown nutty rice, you don't have to count calories after every bite during the holidays. We also share delicious cocktails you can prepare in a jiffy for a family get-together or a Christmas party with friends.
Throughout the year, we displayed swanky spaces with memorable, jaw-dropping interiors. In décor (page 54), we give you our top seven spaces and the reasons we fell in love with them.
With the festive season here, we decided to treat you to some gadgets on our wish list. Turn to Men and their Toys (page 44) and see what the makers of Harley Davidson have in store for you. Check out the car that is going to be the fastest ride in 2016 and the diamond-encrusted phone that is creating a buzz around town.