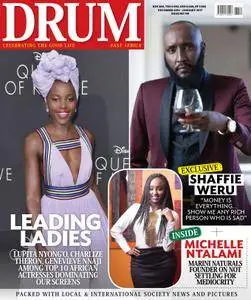 Drum East Africa - December 2016
English | 72 pages | True PDF | 28.2 MB
Gracing our cover in this festive issue is Shaffie Weru who, in an exclusive interview talks about becoming a self-made millionaire, relationships, fatherhood and what he thinks of gossip rags. Which 10 African actresses are dominating our screens? Find out in Africa's Gems. Get beauty tips and a sneak peek into Carole Mandi's make-up bag in Celebrity Beauty where she reveals her most treasured make-up item and favourite make-up trick.
In Men's Style, fashion stylist Asha Mohamed explains how to dress up or down, your linen suit, depending on the result that you want to achieve, and we welcome the holidays with bright and dramatic swimwear in our fashion spread. Check out Women's Style for 10 beach necessities that you will need to hit the beach during the holidays.
Want to know which gadgets will make the festive season extra fun? How about what your favourite tech company has in store for you in 2017? Find out in Men and their Toys. To sharpen your culinary skills, we give you five of our best recipes which you should try your hand at. Check out Beach Vibes in our travel section for the best beaches in Africa. What's Sam Fan Thomas's wish for the younger generation of Kenyan artistes? Read Snap Chat and find out. Grab your copy of DRUM East Africa magazine for these and more juicy stories. Happy Holidays.