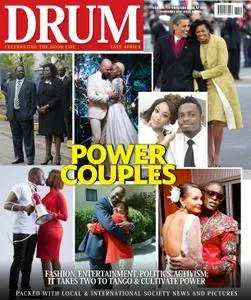 Drum East Africa - February 2017
English | 64 pages | True PDF | 16.0 MB
February is the month of love and to celebrate, our cover story is on East Africa's power couples. Read their stories to find out what makes them a cut above the rest. In Celebrity Beauty, find out celebrity makeup artist Karsha's seven secrets to beautiful, flawless skin. In Celebrity Style, Sharon Mundia Leteipan shows us how to pair and play with detailed print skirts. Catch up with Awilo Longomba, the flamboyant king of techno soukouss, who is also a loving, dedicated father and a spiritual man who was never afraid to follow his heart.
Want to learn simple ways to whip up exotic meals? Learn how, from Chef John A. Getanda who can turn what could be a basic, bland meal into a classic dish that tempts the senses in every way. If you're looking for a romantic valentine's getaway with your significant other, read about the Stellenbosch wine festival in South Africa that promises great times, good wine and so much more. With the 89th academy awards going down this month, check out the must-watch films whose lead actresses are in the running for the best actress award. Grab you copy today for these more interesting stories in your favorite sections of DRUM EA.