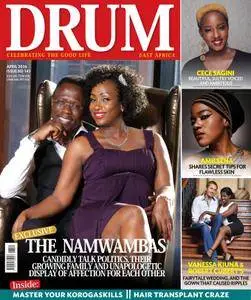 Drum East Africa - March 2016
English | 68 pages | True PDF | 16.9 MB
A new month means one thing – a fresh issue of DRUM with juicy stories from all over East Africa. Our cover story this month is Ababu and Priscah Namwamba. Public displays of affection come easy for these two and, with Priscah expecting their fifth child, this couple seems in love now more than ever before. How does Ababu find balance between family and politics? Why does he say his party ODM disappointed him? How does this couple keep the fire in their romance going? Read on to find out.
If you are a techie, turn to Men and their Toys where we give you amazing gadgets that make their way into the market this year. Find out what makes the Samsung Family Hub Refrigerator so special and why the Kodak 8mm camera should be on your to-buy list. If you've ever wanted to own a drone, check out what the Parrot's Disco Drone is all about.
March is a month lined with Fashion Weeks such as Paris, Mercedes-Benz and New York. With this in mind, we give you a throwback to some of our most iconic fashion displays through the years from some of the finest local designers and stylists.
How well can you do a koroga? In Fine Dining, koroga master, Feysal Anthony Nair, gives you recipes for baleela honey wings, the Nair island rum pepper steak and other finger licking goodness. Try these recipes and you will be hooked.
We have so much in store for you, including a chat with Vanessa Kiuna and her husband Robert Cubert, and a one on one with songstress Cece Sagini We solve your relationship and etiquette dilemmas, and travel to Hungary. If you're a whiskey lover then the cocktail recipes in our Tavern section will be a delight.
It's a great issue for great people! Grab your copy from the nearest supermarket or vendor today.