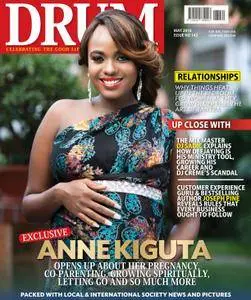 Drum East Africa - May 2016
English | 64 pages | True PDF | 9.4 MB
In this new issue of DRUM, we catch up with the beautiful Citizen TV news anchor Anne Kiguta who is expecting her second child. Read her story to find out more about how she's preparing for the birth of her child, co-parenting, growing spiritually and letting go of past hurts.
We had a heart-to-heart with the mix genius DJ Sadic who opened up about his DJ academy, fashion line, venturing out on his own after leaving the System Unit stable and why he only plays gospel music. Want to know what he had to say about DJ Crème's scandal? Turn the pages.
The Financial Times and TIME magazine have referenced his work. Find out how bestselling author, TED Fellow and customer experience guru, Joseph Pine, can make your business thrive for the long haul.
Ladies, flip through our Fashion pages and let Eddie Kirindo's genius blow your mind. In Health, with the help of Dr. Abdullahi Adan, an accomplished reconstructive and aesthetic plastic surgeon, we debunk some cosmetic myths that will shock you.
In Fine Dining, Diana Kaluhi Adagala of Kaluhi's Kitchen will tickle your taste buds with recipes filled with aromatic herbs and the sweet, enticing smell of fruits.
Prepare for the Drone Olympics and let Isaiah Iraya, in Men and their Toys, take you through some of the coolest drones that would be contenders for the winning title if drone Olympics were invented.
Flip through your favourite section on travel, relationships and etiquette for some advice from our gurus. There is something for everyone in this issue. Buy your May copy from the nearest supermarket or vendor today.