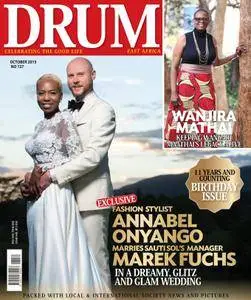 Drum East Africa - October 2015
English | 68 pages | True PDF | 10.6 MB
Begin the month in style by grabbing DRUM'S birthday issue, which is packed with niceties, starting with the society wedding of the year. Fashion stylist Annabel Onyango and Sauti Sol's manager Marek Fuchs tied the knot in a stunning wedding and we have all the details! Turn to Page 10 and read their love story. Learn how they met, their chaotic engagement and future as Mr. and Mrs. Fuchs.
We also caught up with Wanjira Mathai, the late Nobel Laureate Wangari Maathai's daughter. Read on, from Page 40, to find out about the difficult transition within the Green Belt Movement after the death of the Peace Prize Winner, the movement's campaigns, other than tree planting, across the country, the Wangari Muta Maathai Museum and Wanjira's plans to keep her mother's legacy alive.
Travel with us to Prague, the Czech Republic's capital, where we take a tour of the Old Town and New Town. Turn to Page 58 to find out more about this city's extensive history, like owning the world's oldest working clock, and exciting sites that have been listed under the UNESCO World Heritage.
In Fine Dining this month, we catch up with Miss Mandi, who is famous for her under a minute throw downs in the kitchen. From Page 45, find out how to make her lime tikka chicken wings, strawberry shortcake mshikaki and so much more.
Turn to Page 20 where, in fashion, Asha Mohamed shows you how to pull off off the shoulder peasant tops, daisy dukes, flowing dresses reminiscent of the hippy era and sky-high wedges to draw attention to your long, tanned legs. She also shows you how to pair the different outfits with bright boho accessories too.
Whether it's health, etiquette, relationships, style and beauty, or décor, we have you covered. Flip through your favourite sections of DRUM for entertaining stories and captivating personalities from all over the continent - there is something for everyone. Buy your copy from the nearest supermarket or vendor today!