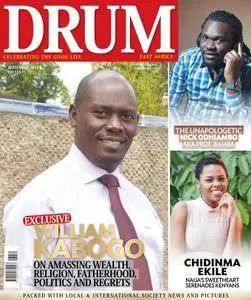 Drum East Africa - September 2015
English | 72 pages | True PDF | 11.0 MB
The start of a new month always means a new issue of DRUM that's packed with your favourite local and international personalities and stories. Our cover feature this month is Governor William Kabogo, one of the wealthiest men in Kenya and a formidable politician. How does the Governor make his money and what does he spend it on? How did his childhood help shape him into the father he is? Jump to Page 12 to get his take on religion, life before politics and so much more.
How adventurous are you when it comes to preparing meals? In Fine Dining, from Page 47, learn how to creatively combine ingredients for delicious treats such as chilli chocolate orange cheesecake. Also, meet Tamara Nerima, our chef this month, whose love for creating and experimenting has become a catharsis she looks forward to whenever she gets inspired to put together a new and exciting culinary experience for her clients.
How much fun can you have with black and white? Not only are these two classic and timeless colours, they're also the ideal chic get-ups for any occasion. Jump to our fashion section from Page 22 and learn how to take sexy to new heights with bold and interesting patterns and prints.