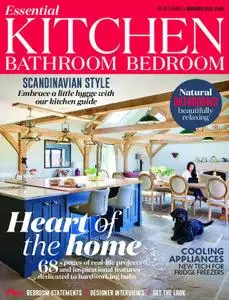 Essential Kitchen Bathroom Bedroom – November 2018
English | 164 pages | True PDF | 39.3 MB
Some styles waft in and out of fashion, popping back up on the interior radar every few years like clockwork. Others, however, are such classics they will always be popular and simply evolve to meet today's demands. Take the Scandi scheme, for example – simple, elegant, and totally timeless, it covers a broad yet strikingly definitive spectrum. From Swedish to Nordic to Danish design, the basic ethos is pale hues, clutter-free and welcoming – the absolute ultimate in easy living. Yet each variation in the design offers something special, ensuring the look will never tire. To show the different appeal this one fabulously understated style can exude, we've put together the ultimate guide to Scandi in Nordic Drama on page 85. Showcasing just how Scandi style can work in real life, flip to page 40 to read New Life and see how Sue and Ian Smith converted a derelict barn into a beautifully light and open space, incorporating kitchen, dining room and living area into one huge social hub. Also embarking upon a barn conversion but with a completely different outcome, Luke and Lydia opted for traditional cabinetry with a cream and blue-grey palette for their kitchen in Balancing Act on page 28. A complete contrast can be found in Colour Me Happy on page 54 – this couple originally wanted a classic kitchen, but just before taking the plunge they did an about turn, opting for a bright, modern offering instead. But, if brave boldness isn't quite what you're after, you can see how colour can also be introduced in a more subtle way yet still making an impact in On a Grand Scale, page 66. You'll also find two real life bathroom projects – Retro Revival on page 122 and The Brass Effect on page 128, as well as our tech guide to fridge freezers in Chill Factor on page 97, how to bring natural beauty into the bathroom in Natural Selection on page 112 and beautiful statement pieces for bedrooms in Exquisite Elements on page 146.