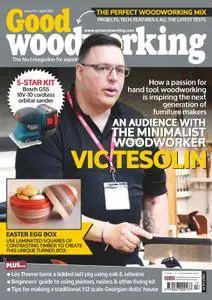 Good Woodworking - April 2017
English | 92 pages | True PDF | 19.4 MB
Highly respected within the industry and also this month's cover star, Vic Tesolin recently inspired and captivated Furniture and Wood Machining students at Warwickshire College, as Andy King reports. Read all about his expert guidance and his passion for hand tool woodworking, and speaking of tools, why not use yours to make one of our featured projects this month: how about a handy ladder shelving storage solution, or our special Easter egg box made using laminated timber? We also talk split turning, show you a design for a great magazine rack, and Les Thorne has a nifty design for a traditional salt pig. If you've been following Peter Bishop's beginners' series, join him this month as he moves on to looking at jointers, nailers and other fixing kit; Brian Barber shares details of the techniques used for the construction of a 1:12 scale Georgian dolls' house; and Mark Herold hopes his jig/router technique can help those with a limited equipment budget realise their dream projects. Edward Hopkins returns with his next 'Home Truths', and introduces two tree surgeons to four tree stumps; Byron & Gómez's award-winning Log Stack Cabinet is this month's 'Centrefold' and in our new feature 'End-grain' we ponder the notion of touching the untouchable. Andy King also reviews some great kit and gives the full five stars to the Bosch GSS 18V-10 cordless orbital sander, which is definitely a star performer, and we also have your usual favourite pages, including news and courses, letters and makers, as well as giving you a sneak peek at the next issue. There's also lots more in store, so pick up your copy today or why not subscribe? Enjoy!