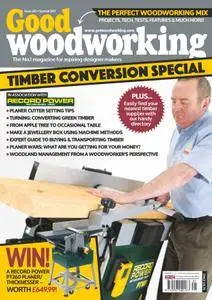 Good Woodworking - Special 2017
English | 92 pages | True PDF | 21.4 MB
Well, it's that time of year again when our Special issue comes around, and here it is! Months in the planning and hopefully one that will inspire, intrigue and educate, the subject of our 2017 issue is Timber Conversion, which is brought to you in association with Record Power. Boasting some of the best woodworking authors in the UK and USA, we're very proud of GW325, and hope you'll like it as much as we do! Consisting of technical articles, a few projects and some features to boot, as well as some tests for good measure, our Timber Conversion Special aims to cover all bases and tell you all you need to know about this fascinating subject. In projects, we have a machine-made jewellery box, and in turning, Les Thorne demonstrates the different types of functional projects that can be made using fresh, green timber. Our technical section is bursting at the seams and is handily broken down into different aspects of timber conversion, starting with Around the House, where Phil Davy discusses the things to look for when buying both soft- and hardwoods from a timber merchant.
In 'People & Places', we bring you a comprehensive alphabetical list detailing the wide range of timber suppliers across the UK, as well as the services each one of them offers. In 'Kit & Tools', we're thrilled to welcome John Lloyd, who gets to grips with two differently priced planer/thicknessers before analysing the results - what do you really get for your money and is it worth the extra outlay? Phil Davy also takes a look at the Bosch EasyCut 12 saw. And while this may seem like a plethora of timber-related content, that's not all, as we bring you a fantastic competition from Record Power, which gives you the chance to win your very own PT260 10 x 6in planer/thicknesser, worth £649.99! Of course, we also have all your usual favourite pages, as well as giving you a glimpse at our exciting December issue, complete with its fair share of festive projects for you to make!