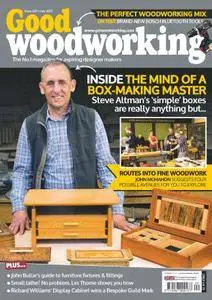 Good Woodworking - July 2017
English | 92 pages | True PDF | 22.1 MB
Our July issue is here and we're giving you some great excuses to get busy in your workshops and have a go at making some handy projects for the house and garden. This month Shaun Newman puts the finishes touches to his Appalachian dulcimer build; David Moody shows you how to make your own custom binder for your copies of GW; Phil Davy's pyramid trellis will prove popular with climbing plants, and Les Thorne offers a great suggestion for making the most of your small lathe. We also have some interesting technical content in store, including a fantastic article from professional furniture maker John McMahon who offers some invaluable advice for making it in the industry; Dave Roberts' returns with the next instalment in his 'What the Dickens' series and Peter Bishop unearths the science behind the growth and structure of trees. In 'People & Places', this month's cover star and profiled maker is American box-making master Steve Altman. With over 40 years' experience in the woodworking industry, his passion for what he does is clear to see. We also have an exclusive feature on Richard Williams' 'Display Cabinet for a Chinese Terracotta Horse', which was recently awarded the prestigious Claxton Stevens Prize, and in 'End-Grain', Edward Hopkins' wonders if we can walk into the workshop and begin a project without even knowing what it is? Andy King also returns to test two brand-new Bosch Bluetooth-enabled tools: the Bosch Professional GSB 18 V-60 combi drill and the Bosch Professional GCL 2-50 C combi laser, as well as the nifty Shogun 2-in-1 folding knife, and the Snappy Applicator and Nanoblock Snappy Applicator, which allow you to achieve a uniform, bubble-free, non-streaky finish on your projects. Brilliant! As well as all this we also have your usual favourite pages, including news and courses, letters and makers, as well as giving you a glimpse at the next issue. Look out for GW320 in the shops today, or why not subscribe and receive your copy early?