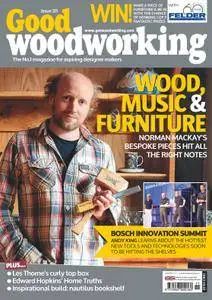 Good Woodworking - November 2016
English | 91 pages | True PDF | 18.5 MB
In this issue we show what happens when music meets wood, and the result is some fantastic pieces of furniture with hidden elements, including Norman Mackay's accordion coffee table, which really does need to be seen to be believed. Also this month's cover star, Norman's pieces have helped him to carve a niche by creating truly unique pieces.
And in terms of projects, we have something for every skill level, including Peter Harrison's home for small treasures – a clever wooden ring box with wooden hinge; lie back and enjoy with Ross Mielke as he shares a fun, cheap project that is ideal for your loved one or indeed anyone who enjoys a long, relaxing soak; Eric J. Wilhelm's nautilus bookshelf is a sophisticated build, which will hopefully go on to inspire many of you to try similar ideas and techniques; in Around the House Phil Davy's firewood box will ensure that your woodburning stove is always to ready for action; and in turning, Les Thorne gets artistic as he turns a curly top box with some added decorative details.
Getting technical, in the next part of his beginners' guide to power tool series, Peter Bishop looks at the extensive range of drills, borers and bits available to the woodworker, and in his CNC router series, Dennis Keeling takes you through the steps for making a stack-laminated jewellery box using this clever device.
In 'People & Places', Andy King reports exclusively from the Bosch Blue Innovation Summit 2016; Ian Parker's 'K desk' is this month's 'Centrefold; and in 'Home Truths', Edward Hopkins discovers a gem of a timber yard in Devon.
All this and much more in GW311, which hits the shelves on 14 October. Enjoy!