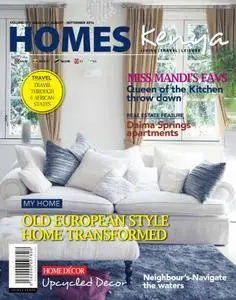 Homes Kenya - August 2016
English | 80 pages | True PDF | 14.4 MB
This issue of HomesKenya Magazine reflects the changing lifestyles of the Kenyan. With a major focus on the middle-class economy, some of the stories we highlight revolve around making home ownership accessible to all Kenyans. We focus on residential developments coming up on the outskirts of the city and give you a peek into a development of affordable and beautiful apartments in Imara Daima known as Daima Springs. As you search for land to build or a home to buy, open up your mind to the idea that your home can be away from the hustle and bustle of the city but still
within proximity.
Who knew blogging could be a revenue stream? With all the perceptions we have about bloggers, it was quite refreshing to interview "Miss Mandi", one of the top food
bloggers in the country. Mandi Sarro, famous for coining the phrase #MissMandiThrowdown" is of the opinion that social media is changing Africa. In her interview on her favorites in the kitchen, she stresses that if you sell the lifestyle of a product, more people will buy the idea and buy the product.
We feature a most beautiful home in leafy Karen suburbs and make you see that making your home like this achievable. This edition also focuses on inspirational
African décor and our brilliant buys page gives you ideas on how to bring the African touch to your home in an affordable and elegant manner. See how upcycled
décor can be used to change communities and enhance eco-friendly living.
We don't want to water down your reading experience, so start turning the pages of your favorite read, engage us and let us know what you enjoyed most on HomesKenya Magazine.
Happy Reading.