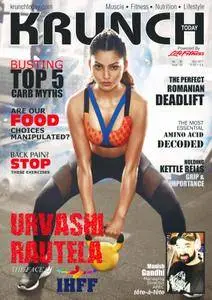 Krunch Today - May 2017
English | 80 pages | True PDF | 26.9 MB
It's the month of May and the heat in this part
of the world is beginning to rise.
Serious heat is also what Urvashi Rautela
signifies in the physique business. The IHFF
girl has been going places and has been
making her mark across the board in films,
modelling, and now on the cover of Krunch
Today. If you are utterly looking to raise
your fitness quotient to Urvashi's, then look
no further than the wonderful tips she has
provided in this issue of KT.
IHFF head honcho, Manish Gandhi is
one of those high rollers who have taken
bodybuilding, sports and fitness to a totally
new stratum. The boss of the ABEC group
gives us a rundown on the approaching IHFF
event in Mumbai. Don't miss it.
Kaizzad Capadia once again leads the
issue with answers on fitness for his many
passionate devotees. While Rachit Dua,
Harry Sandhu and Nikhil Ashtewale broach
new subjects in bodybuilding and nutrition.
Parag Mhetre builds further on his expertise
in kettlebells, and Kunal Sharma tells us about
how children's digestive systems are different
from those of adults.
If back pain during exercises is your concern,
then do dwell on Dr Rajni Patil's advice on
preventing your condition from snowballing
into something worse.
Our favourite nutritionist, Shwetha Bhatia
never ceases to throw up an interesting story.
This time she probes deep into whether our
food choices are being tampered with.
Among the much admired regulars are
Dipannita Sharma Atwal and Aminder Singh;
with the knockout physique-king Siddhant
Jaiswal telling us all about his tryst with
bodybuilding.
Finally, Sumit Banerjee enlightens us with the
story of his rise to a multiple gold medallist,
and landing a place for himself in the history
of self-transformation.
Have a good read.