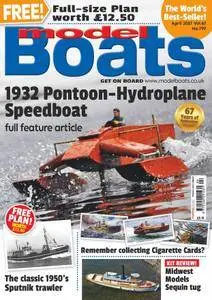 Model Boats - April 2017
English | 76 pages | True PDF | 14.3 MB
This issue includes a Full-Size Complimentary Free Plan designed by James Pottinger, and worth £12.50, for the classic 1950's Sputnik type of trawler, featured on Pages 34 to 37 of this issue. We also have on Pages 10 to 16 a fantastic model by our versatile model maker Ashley Needham for a 1932 Pontoon-Hydroplane Speedboat which performs really well. Ashley is well-known to those readers who frequent the Model Boats Website Forum, particularly for his regular updates and positive comments on the Thread 'Today's Boating'.
Bob Eastwood, one of our Canadian readers, has built the Midwest Models Sequin tug, and an excellent job he has made of it, this being featured on Pages 40 to 45. For the centre pages Gallery we welcome back Fraser Gray, who presents the slightly unusual, and lovingly preserved LV21, which is a decommissioned Light Vessel that had a lengthy, and sometimes dangerous, service off the coast of Kent until being retired in 2008.
Starting in this issue is an occasional mini-series on the trials and tribulations of building 1:700 scale Naval Dioramas, written by Chris Drage and regular readers will remember his superb HMS Poppy in the 2016 Model Boats Winter Special. On the subject of 'remembering', John Parker in his regular Flotsam and Jetsam column takes us back to cigarette cards, these still being collected by many enthusiasts. We also have all the other usual regular columns, and I hope there is something here for all our readers.
Paul Freshney - Editor