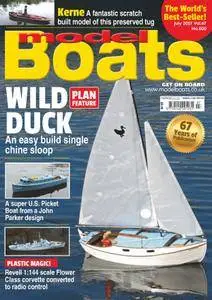 Model Boats - July 2017
English | 84 pages | True PDF | 18.7 MB
This 84 page July issue features a brand new plan for Wild Duck, which is now available from our Plans Service. This hard chine sailing sloop is described in depth, it having been designed by Ray Wood who presents the full supporting construction article for this r/c model starting on Page 10. It is an easy to build model and sails well, as he comprehensively demonstrates.
In addition, Matthew Jackson has built a super fully functioning model to a scale of 1:72 of the preserved steam tug Kerne, this making it just over 12 inches long. Matthew has successfully vac-formed the hull using only domestic kitchen equipment, the processes described being of particular interest to Model Boats readers.
Francis Macnaughton returns to these pages with his r/c conversion of the 1:144 Revell HMCS Snowberry kit. These Flower Class corvettes are a perennial favourite for model boat enthusiasts and the availability of plastic kits in various scales has enabled these WW2 warships to be often seen at the local pond. Also, Chris' Drage is continuing his Waterline Masterclass and revealing more of the techniques he uses and has developed to achieve the perfect diorama.
We also have all the usual other regular columns including Range Finder, Flotsam & Jetsam and Boiler Room, plus a nice Gallery by Phil' Scales for his Hong Kong Police Launch No. 2 project, based on a Mountfleet Models hull, and so I hope there is something here for all our readers.
Paul Freshney - Editor