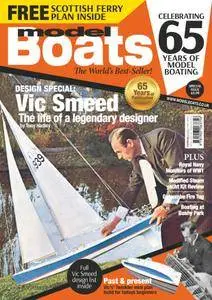 Model Boats - May 2015
English | 100 pages | True PDF | 27.6 MB
2015 marks the 65th anniversary of the original publication of Model Maker, the predecessor to Model Boats.
To celebrate the occasion, in this Special Issue we are bringing together a collection of features and articles which reflect today's mainstream model boating interests but also draw upon the rich archival material from the past.
A keynote item is Tony Hadley's biography of legendary editor and designer Vic Smeed together with his painstakingly compiled list of all Vic's model boating designs that are presently known. This is a unique project which will be of great interest to boat modellers everywhere, many of whom will have started their hobby with a Vic Smeed design. Tony's article is complemented with a delightful build by Dave Milbourn of Vic's Twinkler cabin cruiser developed from Vic's original plan (reproduced in this issue) and which makes a perfect project for the youngster or beginner alike.
We also have a free full size plan of a Scottish vehicle ferry together with a general round up of ferry types as seen at Portsmouth. Naval enthusiasts will enjoy the feature on RN small monitors of WW1 which combines a progress report on the restoration of historic monitor M33 together with a plan feature for HMS M15 specially written by current Model Boats Editor Paul Freshney.
'Kit bashers' will enjoy the build and adaptation of the Deans Marine Medea steam yacht kit while serious scratchbuilders will appreciate an updated version of Richard Webb's classic Gatcombe firefighting tug feature.
Among other items in this packed issue is a definitive description of the items that should find a place in every boat modeller's toolkit and how to use them written by regular contributor Richard Simpson.
This Special Issue is intended to appeal to all model boaters, young and old alike, and will certainly tempt anyone with only a passing interest into taking their first steps into this fascinating and rewarding hobby.
Colin Bishop
Guest Editor