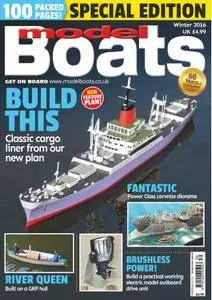 Model Boats - November 2016
English | 100 pages | True PDF | 19.1 MB
This 100 page Model Boats Winter 2016 Special Issue includes a new Plan Feature for a semi-scale cargo liner model based on the famous Union-Castle Line ships. The plan has been designed by Glynn Guest and we include a full supporting constructional article. In addition, there is a full build review of an open steam launch built on a Models by Design hull by John Elliott, and Phil' Parker constructs a Footy Bantam tug. Ivor Warne has a comprehensive Photo Gallery for HMCS Sackville, the historic Flower Class corvette preserved in Halifax, Canada, and to go with it we welcome Christopher Drage presenting his superb waterline diorama for HMS Poppy, a warship of the same class.
This 100 page issue has for its second thread, the theme of 'Improving your Modelling Skills' and for this, John Parker is covering in depth the subject of LED's for our model boats and Richard Simpson, who in his other life is Chief Engineer on a cruise liner, discusses Ship Terminology and what it all means to us. On the same theme of the constructional side of our hobby, Dave Wooley discusses Builder's Models and how they are useful to us and we are pleased that Ron Rees returns to these pages demonstrating how to overcame the challenge of building a practical and powerful working scale replica of an Evinrude Outboard for his next unique model powerboat project. For the power boating enthusiasts, Craig Dickson describes the techniques and processes involved in building a D Class 30cc petrol engined boat for BMPRS offshore racing.
I hope in this Special 100 Page Special issue that there is something for everyone who has a passion for model boats in their various forms and please don't forget to visit our website and participate in our Model Boats Forum managed by Colin Bishop. Model Boats is also on Twitter and Facebook for those readers who like to use those social media.
Paul Freshney - Editor