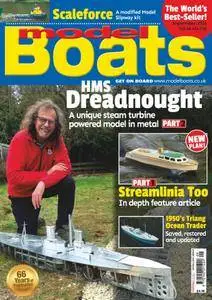 Model Boats - September 2016
English | 84 pages | True PDF | 30.3 MB
This 84 page issue includes Part One of Streamlinia Too with a full supporting construction article by Ron Rees and a New Plan now available from MyHobbyStore. This is an updated reduced size, brushless motor powered version of the original Streamlinia, the famous Bassett-Lowke wooden hull and steam powered model of the 1930's, something that is very collectable nowadays. Ron has designed his version with a working dummy steam engine and smoke unit, the hull being built from Depron, but wood is a perfectly viable alternative.
In addition, Charlie Oates saved a 1950's Triang Ocean Trader from an antique shop and Dr. Marcus Rooks returns to these pages with Part Two of his unique all-metal, steam turbine powered HMS Dreadnought model project.
We welcome Phil' Scales to these pages with his Scaleforce tug, a much modified Model Slipway Al Khubar kit model, and this is the first of his new occasional Gallery series about the models in his eight ship Scales Towing and Salvage Company fleet.
In addition, Anthony Addams has been travelling once again and has visited the Lisbon Maritime Museum, and we have the usual regulars including Range Finder, Flotsam and Jetsam, Boiler Room and BMPRS News, Test Bench and your Free Advertisements. So as always, I hope there is something here for everyone within these pages with an interest in building and operating model boats.
Paul Freshney - Editor