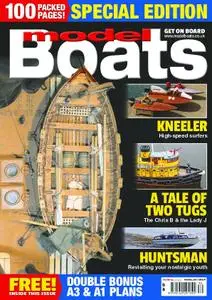 Model Boats – November 2018
English | 100 pages | True PDF | 20.8 MB
Welcome to the annual Model Boats Magazine Special issue which contains 100 pages and is themed around wood. You will not find any plastic or fibre-glass hulls in this issue; everything should be made of wood (unless something has sneaked by me). We have included a short feature on Chatham, Historic Dockyard which also focusses on wood which was not too much of a challenge.
One of the main challenges when creating an interesting 'special' is selecting a general subject which can be approached in multiple ways but still achieve the basic remit. Model Boats, whether you like it or not, is a specialist subject and when you start slicing that specialism down into smaller groups you instantly cut down on the interest level which in turn appeals to a smaller readership. We all have our particular 'thing' that we are really into but, at the end of the day, the majority of us just like watching, building, sailing or reading about model boats; don't we?
With regard to the next 'Special', bearing in mind what I have just written, why don't you send in your ideas and we'll add them to the stockpile.
All the best
Martyn Chorlton