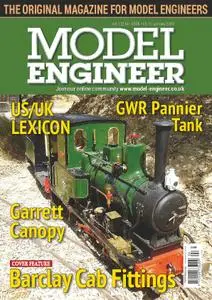 Model Engineer – 18 January 2019
English | 68 pages | True PDF | 11.9 MB
Martin Gearing is still hard at work turning out fittings for his vertical boiler.
Doug Hewson embarks on a new 5 inch design for the GWR Pannier Tank, improving on both the proportions and the performance of the LBSC version.
Mike Tilby examines alternatives to the Parsons turbine design, in particular the work of Professor Auguste Rateau.
Graham Astbury continues his trip up the Great Orme at Llandudno, this time exploring the upper level of the tramway.
James Wells looks back at the twilight years of heavy industry on the River Thames.
Terence Holland presents his own designs for steam and water valves, as used on his Barclay well tank,
Doug Hewson concludes his discussion of the construction of scale signals with those of the LMS and begins with a tour of one of the signal boxes on his railway.
Robert Hobbs continues his description of the construction of his 2½ inch gauge Pacific locomotive, with a description of the dummy boiler, after taking a break to explain how his workshop came to be.
Greg Widin supplies a lexicon of model engineering terms to promote improved communication between model engineers and home machinists on opposite sides of the Atlantic Ocean.