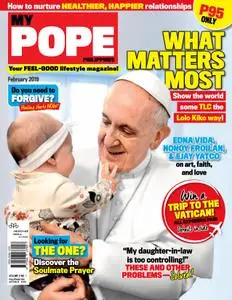 My Pope Philippines - February 2019
English | 64 pages | True PDF | 23.8 MB
It's the perfect mindset for the month of February. And we're thrilled to announce that this issue is filled with extra doses of TLC, beginning with our features on Lolo Kiko's take on marriage (page 24) and his signature hugs (page 8)! With all his inspiring ways, we're sure you would agree that the Pope deserves the title "The King of Hearts" (page 20).
And just as inspiring is the love story of premier ballet dancers Nonoy Froilan and Edna Vida (page 10) as well as Myra Logro's special advocacy, Teddy Hugs (page 11). We look into how forgiveness can bring healing and happiness into our lives (page 48) and the "soulmate hotline" for anyone still on the lookout for The One (page 52).
We feel sure that these and all our other joyful stories are guaranteed to fill your cup until it overflows. Here's hoping that our pages encourage you to bring a little more love and compassion into this world.