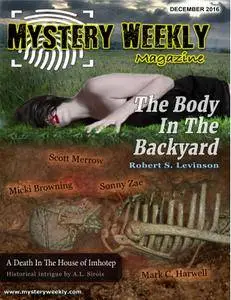 Mystery Weekly - December 2016
English | 98 pages | True PDF | 7.7 MB
The stories in December's issue of Mystery Weekly Magazine couldn't cover more of the time/space continuum if it had a Flux capacitor.
In "The Body In The Backyard," retired LAPD detective-turned-PI Jack Stover gets a second crack at solving an old missing persons case, when evidence resurfaces after having being buried for thirty years. This clever mystery by Robert S. Levinson is a snappy LA procedural with realistic characters sketched in a confident, breezy writing style.
Micki Browning, who first appeared in our November 2015 issue with "String Theory", returns with a merry hardboiled caper entitled "Sleighed", in which a hitman travels to the North Pole to find a guy named Nick. A nut-cracking Christmas yarn which will have special appeal for those who like their eggnog spiked.
"The Ghost Of Billy The Kid," by Scott Merrow, is one of the more original stories to grace our pages. A hundred years after his death, the legendary gunslinger returns to the mortal plane as a ghost who like a guardian angel helps people in need. This time, it's to assist an incompetent sheriff solve a murder, which he accomplishes in humorous style by moving overlooked evidence around the room.
Jumping back in time a few millennia, we have "Death, Honor And The Ordovices," by Mark C. Harwell. In this historical whodunit, a Roman soldier's gruesome murder threatens the legion's honor and a precarious peace with a conquered Celtic tribe.
In "A Death In The House Of Imhotep," by A.L. Sirois, a young Egyptian student named Anitepsut helps her cousin unravel the murder of Lord Imhotep's cook. No one is above suspicion, and the investigation uncovers many secrets.
And what happens when the oldest CIA agent starts to lose his edge? The answer is in our hilarious mystery from Sonny Zae. "Warren Pace, CIA" is a funny, high-octane story that pairs a bumbling elderly CIA field agent, with an eager young recruit.