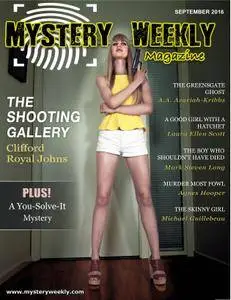 Mystery Weekly - September 2016
English | 78 pages | True PDF | 5.6 MB
A monthly mystery magazine that presents crime and mystery short stories by some of the world's best established and emerging mystery writers. The original stories selected for each issue include noir, cozy, hardboiled, locked room, comic, and historical mysteries–plus occasional genre-busting stories that lean toward speculative or literary fiction. However you classify them, all of our stories feature strong writing and unsurpassed entertainment value.
Girls rule in this issue of Mystery Weekly Magazine. In our feature story, "The Shooting Gallery" by Clifford Royal Johns, a petty thief who stole from a mobster is threatened by a leggy blonde to pay it back, or die trying. Truth mirrors fiction in Mark Steven Long's clever offering, "The Boy Who Shouldn't Have Died", about a man irresistibly compelled to write. In "The Greensgate Ghost" by A.A. Azariah-Kribbs, murder will not lie easy in local psychic Ellen Cobble's knot of lies, secrets, and the supernatural. A recovering coke queen finds her voice in "The Skinny Girl" by Michael Guillebeau. A rookie cop investigates mysterious chicken slayings and trips up a cunning killer in Agnes Hooper's "Murder Most Fowl". Sometimes she's the only one standing between you and the bad guys: "A Good Girl With A Hatchet" by Laura Ellen Scott. Plus, can you find the clues pointing to self-defense or murder in this month's You-Solve-It mystery?
Mystery Weekly features the best in short mystery fiction every month!