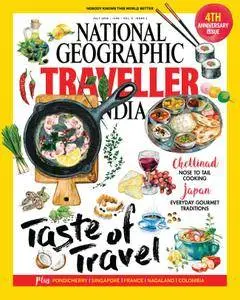 National Geographic Traveller India - July 2016
English | 104 pages | True PDF | 36.4 MB
Travel of Taste Issue:
UNVARNISHED TABLES - The frenetic pace of Tokyo, the kindness of strangers in Kyoto: Ticking Japan off the bucket list, one meal at a time.
GUTS AND GLORY - A Chettinad food pilgrimage reveals the dramatic tale of a community and the truth behind its spirited cuisine.
FROM FOREST TO TABLE - In the hills of Nagaland, life, land, and labour are aligned with the sourcing and consumption of food.
TABLE FOR TWO - In Pondicherry, food remedies a storm-stricken family holiday and strengthens the bond between a father and a daughter
SINGAPORE FOOD GUIDE - From cracking crustaceans to sizzling satays, Singapore is a delicious hotspot of Southeast Asian cuisine. Here's our list of must-try dishes and top
pantry picks.
UNDER THE INFLUENCE - France's best-kept secret? On the vine-laced hillsides of Beaujolais, drinking wine is all celebration, zero pretence
COLOMBIA IN A CUP - Amid the mountains of the Sierra Nevada range, a new coffee destination bears fruit