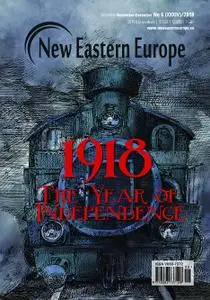 New Eastern Europe – November 2018
English | 188 pages | True PDF | 33.3 MB
Commemorating anniversaries is one of the key elements in collective memory and shaping national identities. This year's events surrounding the centennial anniversaries of 1918 are no exception. In the West, the Armistice of Compiègne signed on November 11th 1918 marks the end of the bloody First World War – a war that saw the use of advanced technologies leading to a mass number of deaths on all sides. In the eastern parts of the European continent, that year is remembered not only as the end of the war, but also saw the emergence of newly-independent states and the rise of geopolitical struggles which are felt until this day. For Poland, it was the rebirth of the state – for the first time in over 100 years, Poland was found again on Europe's maps. Other states in Central and Eastern Europe also took advantage of the chaotic times, declaring their own independence. Such was the case with Czechoslovakia, Estonia, Latvia, Lithuania, Belarus, Ukraine, Georgia, Armenia and Azerbaijan – all of which declared their independence, even before the end of the war. The independence for many of these nations, however, was short-lived as the Bolsheviks pushed their way into the remnants of the fallen Russian Empire. These are the stories our authors examine and we encourage you to join in their reflections as we seek the relevance of these lessons of 1918 for today.
Returning back to 2018, this issue of New Eastern Europe also features analysis of the situation unfolding in Russia – socially, economically and politically. An essay on Georgia's approach to its transformation by Bakar Berekashvili raises the uncomfortable question on the role that populist and illiberal forces may play in the coming years in that country. Meanwhile, Piotr Oleksy's essay illustrates how Moldova has all but abandoned its pro-western path.