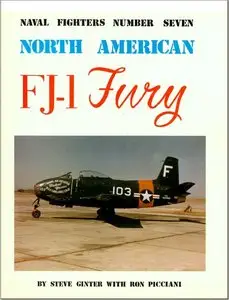 North American Fj-1 Fury (Naval Fighters 7) By Steve Ginter, Ron Piccian
Publisher:Naval Fighters 1983 | 32 Pages | ISBN: 0942612078 | PDF | 21 MB
It was 1944, and a new age in aviation was dawning in the European skies, the jet age. As more German jets appeared in combat, it became a foregone conclusion that Japan would be producing them too. These facts prompted the Navy to issue a requirement for carrier jet fighters. In late 1944 BuAer sent re­quests to several manufacturers for jet proposals. Up to that time only one all-jet fighter contract had been issued — for the McDonnell XFD-1 (FH-1) Phantom (see Naval Fighters #3). From the proposals submitted, BuAer technical desk chose three designs to be developed. These were the McDonnell XFD-2 (F2H) Banshee (see Naval Fighter *2), the Chance Vought XF6U Pirate and the North American XFJ-1 Fury. Since these decisions were taking place in a war environ­ment, the Navy could not bank on one airframe manufacturer or for that matter one engine manufacturer to produce a capable jet to counter the possible Japanese threat. Therefore, the F2H was planned around two of the Westinghouse J-34 turbojets, the F6U around one Westinghouse J-34 turbojet, the FH-1 around two of the Westinghouse 19-XB turbojets and the FJ-1 around one General Electric TG-180, which became the Allison J-35.
NO PASSWORD


!!!No Mirrors below, please! Follow Rules!