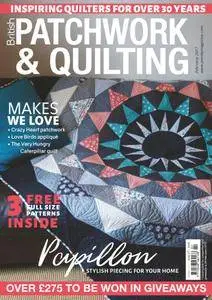 Patchwork & Quilting UK - February 2017
English | 100 pages | True PDF | 17.5 MB
Lots of lovely projects for you this month, of course! Our cover quilt, Papillon, features a stunning quilt designed by Lynne Goldsworthy for Makower. Lynne has a great knack of breaking down a design into easy components, so do test your skills with this project. Ann Duncan approached us recently with her delightful Valentine Love Birds wall hanging; we are always looking for new contributors so do get in touch if you have made something you think our readers would love to make too! The Salisbury Spring quilt by Sally Ablett features the latest collection from Lewis & Irene while Julie Hodges shows us a delightful Sewing Holdall. Chris Hammacott has made a lovely tweed Crazy Heart and I've made a quick pieced quilt using the latest I Love U fabrics featuring The Very Hungry Caterpillar™. Helen was lucky enough to visit the West Country Quilt Show at the end of last year and shares some of her favourite quilts as well as the winning entries. We Meet a Mini Quilter to help inspire the next generation of quilters and also hear about a recent play, The Sewing Group. Joanna O'Neill tells us about her Six Years of Journal Quilting and we find out about an appliqué technique in India in Patti ka Kaam.