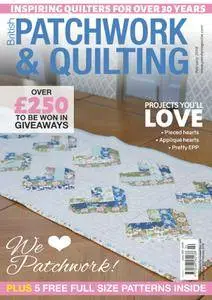 Patchwork & Quilting UK - February 2018
English | 100 pages | True PDF | 16.4 MB
This February seems to be jam-packed with a multitude of projects, although several of them are small or quick pieced as the aftermath of Christmas and New Year is still a very busy time. We have several cushions for you in this issue highlighting different techniques. The Little Hearts Cushion is a delightful appliqué cushion with some big stitch quilting detail, while the Stained Glass Cushion has a stylish Art Deco look. English Paper Piecing is very much in vogue now so we have the pretty Roses and Hearts Cushion to charm you. I've made a quick pieced quilt designed to showcase the Chroma fabrics it's made from; it would have been made a lot more quickly if one of my cats hadn't chosen it as one of her favourite sleeping places mind you! The Erratic Batik quilt can be made with random strips while the All the Hearts Runner is strip roll friendly. We also make the new mushroom house and pieced block in our Mushroom Village series quilt.
Packed with projects and lots to read too. We take a look at the wonderfully vibrant mini quilts from Brazil in Let's Colour the World and see the work created by a group of textile artists in 12 by the Dozen. Sheilah Daughtree tells us about the Silk Museum in Macclesfield and we find out the story behind Vendulka Battais' quilted jacket in Pumpkin in Silk. Frances Meredith shows us her First and Last quilts and we meet Montague Patchers in Introducing.