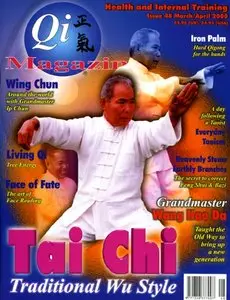 Qi Magazine 48
Publisher: Tse Qigong Centre 2000 | 41 Pages | PDF | 8 MB
Qi Magazine is a newsstand periodical launched in the mid-1990s to cover the world of qigong and inform the English-speaking world of the spectrum of practice and thought being offered by various master practitioners in the West. Qigong is the collective name of a number of exercise systems that emerged through the centuries in China. On one end of the spectrum, hard qigong, designed to build the body, grades into Tai Chi and the martial arts. On the other end, soft qigong, designed to relax the body and improve health, fades into acu-puncture and the practice of Chinese medicine. Each issue of Qi Magazine is built around a number of short feature articles that provide insight from the wisdom of one of the more notable qigong masters, introduce an element of basic practice, or discuss the value of a form of Chinese medicine. Many of these are illustrated with detailed diagrams of the body or of the movements being discussed. There is a large letters-to-the-editor column in which readers are invited into a lively dialog with the editorial staff. In addition, the e-mail address of most writers for the magazine is given so that readers may respond to their articles immediately and directly. A selection of both Eastern and Western authors also write regular columns.
NO PASSWORD



!!!No Mirrors below, please! Follow Rules!