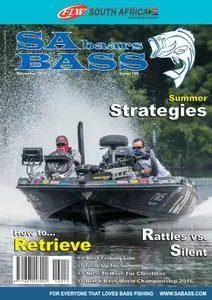 SA Bass - December 2016
English | 68 pages | True PDF | 22.3 MB
SA BASS has been the leading bass magazine since 2001 for everyone who loves bass fishing. In this issue we focus on catching summer bass.
"Sensational Summer Strategies - Part 1"
I'm so excited that we're slap bang in the middle of summer and I'm hoping you've planned at least one trip to a fishing spot this month that has resident bass. – Roger Donaldson
"String Theory …"
We have all stood in front of a shelf in retail store looking at all the different options; yellow, green and even invisible ones – Colin Willmer
"How to Retrieve Lures"
Every angler has a favourite jerk- or crankbait that they will retrieve, whatever it takes. Especially if they know there are still bass on the spot they were fishing – Bennie Wiese
To learn more about the art of bass fishing, read SA BASS… now on sale.