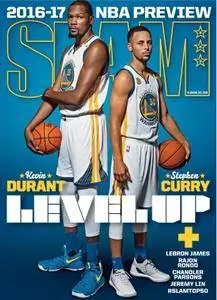 Slam Magazine - December 2016
English | 88 pages | True PDF | 26.0 MB
2016-17 NBA PREVIEW - A group of our favorite rappers help us look toward the coming NBA season.
#SLAMTOP50 - Kawhi Leonard (right) and the rest of the NBA's elite are ranked in our annual list of the League's 50 best players.
ROOKIES MOST LIKELY TO… Like every year, we give some superlatives to a young, wide-eyed crop of up-and-comers.
F.U.T.W. - Stephen Curry and Kevin Durant are officially running the most talked-about team in the NBA. You ready?
WIN THE DAY - Remember when JJ Redick was the most hated basketball player in America? Neither do we.
BACK ON MY GRIZZY - The ever-stylish Chandler Parsons' next chapter will take place in Grind City.
IN MY MIND - Problem child or troubled genius? We think of Rajon Rondo as the latter, and hope the "troubled" part disappears ASAP.
MOMENT OF CLARITY - Linsanity is long gone, but Jeremy Lin is back in New York and ready to run the suddenly young-ish BK Nets.
MY TIME - Seth Curry finally has a guaranteed deal and a chance to prove he truly belongs in the L.
Y'ALL MUST HAVE FORGOT - Shareef Abdur-Rahim is far from the most legendary member of the '96 Draft class, but dude had serious game. Do remember.