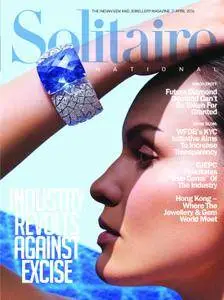 Solitaire International - April 2016
English | 84 pages | True PDF | 24.4 MB
The 2016 Union Budget brought little cheer to the gem and jewellery industry. The issue of excise duty raised its ugly head again. Fearing the return of the troublesome Inspector Raj, the industry, barring a few trade bodies, decided to go on a strike that is still being continued by a section of jewellers. The government allayed the fears of the industry in mid-March, promising that a high-level committee that would include jewellery industry members would look into all issues related to excise compliance procedures. No harassment or stock seizures will be carried out until the committee submits its report. Meanwhile, estimates put the domestic jewellery industry's losses at an estimated K7,000 crore per day. Read an in-depth report about the month-long agitation in the Cover Story. In an exclusive interview with Solitaire, Simon Trott, the newly appointed managing director of Rio Tinto Diamonds, spoke about the company's market expansion plans, customer commitment, and the need to keep diamonds on the top of the luxury pyramid. In the run-up to the World Diamond Congress that will be held in Dubai next month, WFDB president Ernie Blom elaborates on the key issues of transparency, responsibility and sustainability that will be discussed at the event. Fancy natural colour diamonds, tanzanites, alexandrites, dendritic agate, blue amber and fossilised opal saw good demand at the 33rd edition of the Hong Kong International Jewellery Show and the 3rd edition of the Hong Kong International Diamond, Gem & Pearl Show. Our special correspondent Cynthia Unninayar offers an overview of the bestselling jewellery and gemstones in Trade Fair.