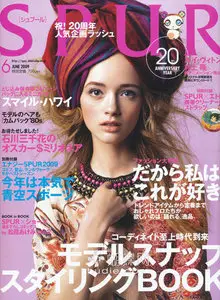 Spur June 2009
JPG | 300 PAGES | JAPANESE | 130 MB
Japanese: シュプール
field: apparel
style: stylish
market: women, 10s, 20s, 30s
region: Japan
frequency: monthly
"The intellectual fashion magazine"
SPUR bills itself as an "intellectual fashion magazine". Honestly, until I read that, I didn't know something like that even existed…
Its readerships stretches from the late teens into the 30s, but most readers are in their 20s. It features clothing that is a mixture of classy, elegance, casual and self-conscious, kind of right in the middle between Vogue Nippon and non-no.
Circulation 119,000.
Tokyo based Shueisha is a major publisher in Japan and also publishes well-known magazines like non-no, MORE, LEE, PINKY, SEVENTEEN, éclat, UOMO, MEN'S NON-NO, Playboy and Weekly Playboy as well as a wide range of popular manga titles, like Weekly Shonen Jump and Young Jump.