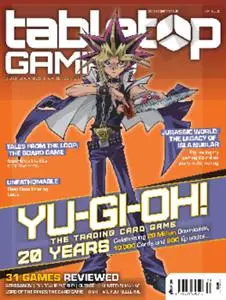 Tabletop Gaming – April 2022
English | 103 pages | PDF | 87.0 MB
Tabletop Gaming is the UK's only monthly magazine dedicated to all types of gaming on your tabletop. From board games, card games, roleplaying games, miniatures games, war games and party games we have you covered every month in 100 pages. Dive deep into how games are made in interviews with world famous designers, discover new favourite games, learn new tricks with our painting guides, and get to grips with the classics that have passed you by.
And with tons of reviews of new releases each month you'll never be in the dark about what you should play next.
Extra digital content including exclusive images, videos, podcasts and more!
Each issue:
• Latest news and reviews
• Exclusive interviews with top designers
• In-depth features
• Ten of the Best games lists
• Tabletop Gaming Live Event news
• How we made and have you played articles
• Miniatures painting guide
• Retrospectives on the classics
• The indie shelf, showcasing unknown gems
• Event reports from the world of tabletop gaming
• Shop spotlights to find your new favourite café