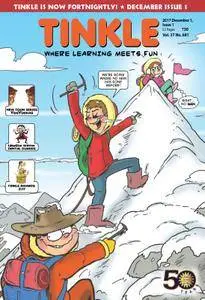 Tinkle - December 22, 2017
English | 37 pages | True PDF | 10.9 MB
What's Special?
It's the last month of 2017 and Tinkle promises to end the year with a blast!
Azmin and her kids take a trip to Ladakh to see the elusive snow leopard in Luck of the Draw!
Siblings Bir and Bala meet the mysterious Vyan and learn more about their hidden superpowers in the new series YogYodhas: Praani.
A brother–sister duo's World Mountain Day trek proves more trouble than it's worth when their phone gets stolen. They are scared, separated and must now deal with the Monkey Menace!
Brace yourself to meet the new IdeaStar contest villain! Billy will face off with this scary new monster in Dental Diaries: Hospital Hazard!
Vote for all your favourite Toons, covers, stories and more in the 3rd Tinkle Awards 2017!
Also Starring:
Suppandi takes on a new challenge in The Physics Problem. Do you think everyone has seven lookalikes? Then read Know-It-All: Familiar Faces! And Rahul and Ravi are determined to nab a notorious new criminal in Defective Detectives: The Tap Thief.