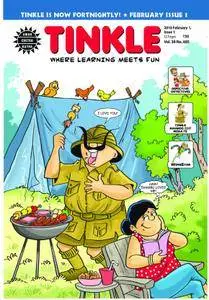 Tinkle - February 22, 2018
English | 42 pages | True PDF | 20.0 MB
What's Special?
This February, celebrate your love for stories, puzzles, fun and learning with Tinkle!
• On World Wetlands Day the cranes are throwing a farewell party for their migratory bird friends! But will little crane, Saru's awful singing voice, prevent her from participating in the celebrations in Craning for Glory?
• The results of the 3rd Tinkle Awards are out! Check out who the Top Toon is and which is the Best Cover, Best Story, Best Feature and more!
• Celebrate the birth of famous writer Charles Dickens by discovering his quirky side in Know-It-All: Dickensian Details!
• Find out what happens when Shikari Shambu gets up to his Andaman Antics. Will he find the relaxation he's looking for or will another adventure dive-bomb his way?
Also Starring:
Help Rahul and Ravi unearth the mystery behind the lost time capsule in Defective Detectives: A Matter of Time. Join monsters, Drop and Loop, in their quest to find a magical venom that'll make them scary in Thrillers: Infamous. How will security guard Manoj deal with rumours of a ghost when he goes on his Night Shift? And a notorious gang of criminals wants to unmask Mapui in WingStar: Masked Mascots! Will they expose her best kept secret, her identity?!