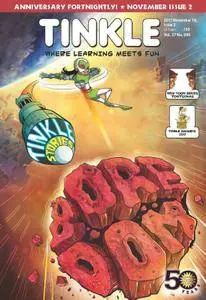 Tinkle - November 24, 2017
English | 46 pages | True PDF | 16.2 MB
What's Special?
Tinkle is turning 37 and the party continues in this issue! Get ready to play, learn and laugh out loud with all your favourite Tinkle Toons!
• Our newest Toons Bir and Bala are on their first adventure in YogYodhas: Freaks! Follow them as they discover their powers as warriors of the spirit.
• Learn more about the fire that once destroyed the Tinkle office. And how the team battled all odds to put the next issue out in Tinkle Reborn!
• Four cousins stumble upon an unexpected treasure while cleaning their grandma's old room in Granny's Secret.
• Vote for all your favourite Toons, covers, stories and more in Tinkle Awards 2017!
• John is the only one who hasn't read the newest Tinkle issue. Find out what he does to save face in Tell A Tale.
• To get to the Tinkle stories, Sam will need to crack some mind-boggling puzzles in Pic(k) Your Brains!
• The wackiest new IdeaStar villan is revealed in WingStar: Overheard! Will this supervillian defeat WingStar?
• Also read Rahul, Ravi, Sam and Mynah's insane adventure as they try to escape the crazy amusement park, in the Mega Toon Mash-up, A Ride to Remember.
Also Starring:
Suppandi has a strange doubt during a test in Suppandi: Testing Times. Shaurya is back with poachers on his tail! Will dream team Shambu and Shaurya triumph over these goons? Find out in Shikari Shambu: House Arrest. Wai tries to make a business deal at the wrong place and the wrong time in Wai Knot: The Golf Pro.