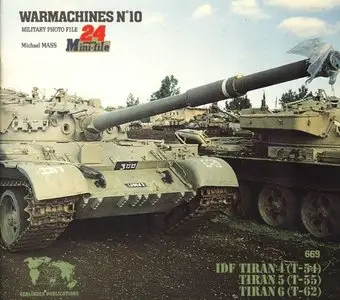 Verlinden Warmachines IDF Tiran T-54 T-55 T-62 By Michael Mass
Publisher: Verinden 1991 | 24 Pages | ISBN: 1930607024 | PDF | 17 MB
No other country in the modern world has taken advantage of enemy assets the way the Israeli Defense Force did. Ever since they fought the Arabs on various battle fields, the IDF was able to capture a huge number of different Armored Fighting Vehicles (including battle tanks) which they masterly modified for their own use. Actually, their first fighting vehicles were taken from the British who saw a lot of their Bren carriers and armored scout cars confiscated by the Haganah (the forerunner of the IDF). The Egyptian army lost several of their T-34 tanks in the Sinai peninsula in October1956 in favor of the IDF, and hundreds of T-54, T-55 and T-62 battle tanks were captured during the 1967 Six-Day War, the 1973 Yom-Kippur war and the 1982 "Peace for Galilee'' Operation. The first T-54 and T-55, still wearing Egyptian and Syrian markings, were conveyed on train flatbeds and heavy duty truck transporters to the IDF Ordnance Corps Depot for the first stage of standardization. This included a communication equipment update, storage modifications and above all the application of different painting and markings. These tanks entered IDF service as the TIRAN 4 (T-54) and TIRAN 5 (T-55), named after an island in the Red Sea, southeast of Eylat, Israels gateway to the Far East, in 1969, a second stage of modifications and improvements was implemented to the TIRAN fleet, not the least being the replacement of theioomm gun by the M68i05mm gun, manufactured by the Israeli Military Industries (IMI). This initially posed a problem because the gun (licence-built Vickers L7 gun of British origin) was designed to be loaded from the left side (like all western battle tanks) whereas the loader in the T-series is seated on the right. IMI was forced to redesign the gun and its loading system.
NO PASSWORD


!!!No Mirrors below, please! Follow Rules!