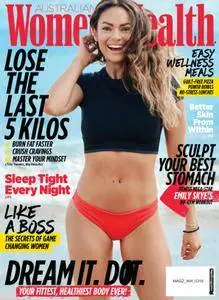 Women's Health Australia - March 2018
English | 148 pages | True PDF | 41.8 MB
Ready to upcycle? Spin your way into those skinny jeans with this 2500kJ per hour workout.
Speed reads Six top 2018 health titles that will feed your body and your mind.
Break a nail (rut) Cute-icle inspo on how to get the most from your next trip to the talon salon.
Nutritional yeast Boost your B-vits with the veganfriendly answer to Parmesan cheese.