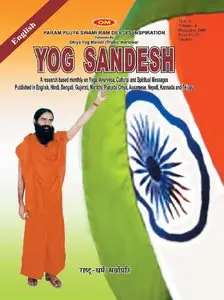 Yog Sandesh Magazine
January 2009 | English | PDF | 1.5 MB | RS+ES
Yog Sandesh is a monthly magazine on Ayurveda, Yoga & Pranayama. This magazine is published by Swami Ramdev Maharaj of Divya Yog Mandir (Trust) - Patanjali Yogpeeth. The circulation of the journal is about ten lac ( 1mn ) per month.
Please download this magazine as a sample and subscribe if you like it. Please encourage the good work being conducted by Shri Ramdev Maharaj. For information can be obtained at
http://www.yogsandesh.org
.
:-)
NO MIRROS