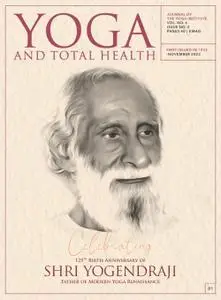 Yoga and Total Health - November 2022
English | 40 pages | True PDF | 6.7 MB
The 125th Birth Anniversary of Shri Yogendraji, Founder of the Yoga Institute, is in November!
A few of the gems from the journal –
Hansaji's favourite story of the horse and the donkey, and Devdutt Pattanaik's views on the synthesis between Yagna and yoga. Learn how to handle a hectic festival season.
Read fascinating stories connected with Shri Krishna from Shrimad Bhagwat Mahapurana.
Prepare for the upcoming change in weather, with Ber Chutney whose recipe is featured in Yogic Ahara.
We have (in Hindi) Sutra 2.15 and Samkhya explaining creation through Prakriti.
So, pick up these gems, today!!!