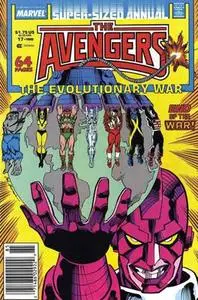 Avengers Annual #17 | Published 1988
RAR | PDF | 30.10 Mb | RS
"Prometheus Mutans!"
The High Evolutionary reconstructs and revives the robotic Avengers member Jocasta in hopes of probing her for information on the Avengers, but Jocasta summons the Avengers to help her thwart the Evolutionaryís plot to detonate a genetic bomb that would mutate all life on Earth. Hercules and the High Evolutionary seemingly destroy each other in battle, and Jocasta destroys the Evolutionaryís bomb in an explosion that consumes her as well, though the other Avengers escape.
Avengers Assembled: Hulk II, Captain, Hercules, Beast, Jocasta, Falcon II, Yellowjacket II (honorary).
Other Characters: High Evolutionary, Kro, Attuma.
Note: This story is the concluding chapter of "The Evolutionary War", a crossover storyline running though all of Marvelís 1988 annuals. This issue also features "Beyond Life" (by Mark Gruenwald, Ron Lim and Tony DeZuniga), the eleventh and final chapter of a history of the High Evolutionary printed in Marvelís 1988 annuals.
Rapidshare:
http://rapidshare.de/files/36119271/Avengers_Annual_17.rar