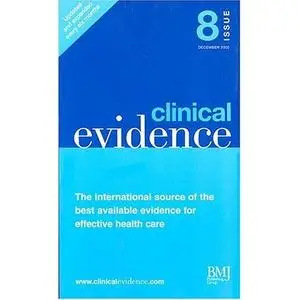 Clinical Evidence 2006: CARDIOVASCULAR DISEASE
Bmj Publishing Group | ASIN B00007AW96 | PDF | 1,5 Mb | 304 Pages
Clinical Evidence is an international source of the best available evidence on the effects of common clinical interventions. It summarizes the current state of knowledge and uncertainty about the prevention and treatment of clinical conditions, based on thorough searches and appraisal of available literature. It is neither a textbook of medicine nor a set of guidelines.
CARDIOVASCULAR DISEASE
TOC
Acute myocardial infarction
Angina (stable)
Angina (unstable)
Atrial fibrillation (recent onset)
Changing behaviour
Heart failure
Peripheral arterial disease
Primary prevention: dyslipidaemia
Primary prevention: hypertension
Secondary prevention of ischaemic cardiac events
Stroke management
Stroke prevention
Thromboembolism
Varicose veins
Ventricular tachyarrhythmias (out of hospital cardiac arrests)
Obesity
Prevention of cardiovascular events in diabetes
Download from OxySHare
Download from RapidSHare