GAMES FOR WINDOWS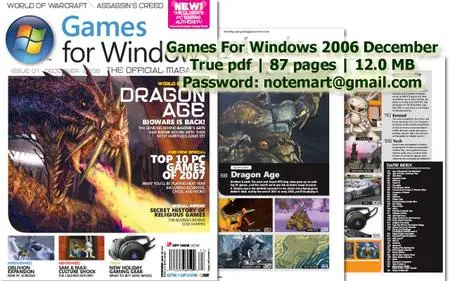 Game For Windows - 2006 December
True PDF | 87 Pages | 12.0 MB
Optimized version for easier downloading. No fullpage Ads
The link for downloading from
ftp2share.com
The password is
notemart@gmail.com
Games for Windows: The Official Magazine is a monthly computer game magazine published by Ziff Davis Media. It is the successor to Computer Gaming World. The Official Magazine is the title of a computer gaming magazine from Ziff Davis Media and the Microsoft Corporation. The publication date of its first issue was November 2006.
According to Ziff Davis, the magazine is to be a "rebirth" of the Computer Gaming World magazine, which has lost news stand presence over the past few years[citation needed]. According to the editorial staff of CGW/GFW, the magazine will essentially remain unchanged and is in no way subject to Microsoft's influence, something reflected in the language of the legal agreement between Ziff Davis and Microsoft. For the last several years, Computer Gaming World' coverage has overwhelmingly been on Windows-only games [citation needed] due to the relative lack of games which support other operating systems.
Email me
notemart@gmail.com
if any links died or any further requests.
Visit
my blog at Blogspot
for more..