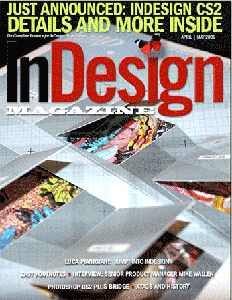 Issue #5 — April/May 2005
In this issue, you will find:
* Breaking News: InDesign CS2 Announced! We've got the details.
* Exploring InCopy CS2: What's New, What's Hot
* Uncovering Photoshop CS2, Illustrator CS2, and the new Bridge application
* Laying Out Footnotes: Easy in CS and Easier in CS2
* Blending Colors: Cool Effects with Transparency Blending Modes
* Scripting InDesign: Adobe's New Extendscript Utility
* Jumping into InDesign with Designer Luca Pianigiani
* Tracking History and Tags: Must-Have Plug-ins
* Creating a Photo Contact Sheet in Six Easy Steps
* Plus reviews, interviews, news, how-to's, and enough tips and tricks to make you jump for joy!
If you can please suport me by using Rapidshare