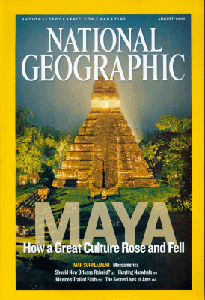 National Geographic August 2007
PDF | 156 Pages | first time sharing | 38 MB
The doomed splendor of the Maya unfolded against the backdrop of the rain forests of southern Mexico and Central America. Here, Classic Maya civilization reached improbable heights. To chart a culture whose Preclassic roots reach back 3,000 years, we begin with new evidence suggesting that the arrival of a warlord from central Mexico ushered in an age of magnificence and masterpieces such as the death mask of Palenque's King Pakal.